SWEATHOGS BASKETBALL
Cookin' Wack Teams Like a Pound of Bacon Since 1994
This here is the fresh site for the 2002-2003 Division Four Champion SWEATHOGS. After losing the championship finals of Division 3 in two of the last three seasons the Sweathogs sensed their time to run with the big dogs of senior men's basketball Division 3 had passed... this has led the team to drop down to Division 4 for the 2007-2008 season. Thanks to their supremacy in 2003 the Sweathogs run with the big Dogs in Labatt Lite Division 3 of the Manitoba Senior Men's League. The Sweathogs also have one other Division Championship in their past, in their inaugural season back in the day (1994-95) when they were known as the Lions.
This is the place to be for all of the latest in Sweathogs news and events and to get to know your favourite Hogs up close and personal. Keep in mind that good seats are still available for all of the Sweathogs home games!! Take advantage of the opportunity to heckle the opponents while cheering on Manitoba's Team. Like Vanilla Ice, the Hogs are cookin' wack teams like a pound of bacon! If you didn't know, know you do.
2007-2008 ROSTER
# 3 Dennis Dare (G)
# 4 Jason Mann (P)
#11 Bill Crossman (F)
#14 Oliver Yambao (G)
#15 Dave Friesen (G/F)
#21 Cade Arason (G/F)
#22 Ryan Kangas (F)
#24 Neil Pawlyk (P) (F)
#33 Jeff Sinnock (F)
#47 Scott Lancaster (P)
Injured Reserve/Rehab:
Kevin Robson (F)
Jeremy Flynn (F/P)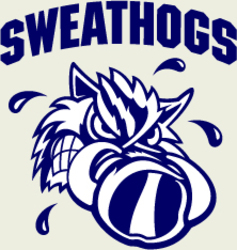 2007-2008 Game Results
Game 1 - Loss
Game 2 - Loss vs. Ghetto Superstars
Game 3 - Win
Game 4 - Win 50-45 vs Mighty Tonsures
If you don't like the Hogs - step off!
Action Shots from Teen Wolf 3